Daring Rescue on Carrauntoohil
Members of the Kerry Mountain Rescue Team and Gardaí on Sunday evening effected one of the most daring rescues ever performed on Carrauntoohil when they brought down safely a Corkman who had been injured in a fall on a sheer rock face.The injured man was Bill Collins, of St. Lukes, who was climbing on the eastern face of Carrauntoohil with his friend Con Horgan when the accident occurred. They were about 400 feet from the summit when Bill Collins slipped and fell 20 feet before he became wedged in the rocks. He sustained a compound fracture of the right leg and right arm and some head injuries. Had he not been wedged in the rocks he would have fallen a further 200 feet.
Having made his friend as comfortable as possible, Con Horgan heroically faced the dangerous climb back down on his own and raised the alarm at about 7.30pm at Beaufort Garda Station. He then went back up the mountain to be with his friend while Gardaí were alerting the Kerry Mountain Rescue Team. Five members of the team including two newly qualified doctors arrived at the scene of the accident at about 10.30 in pitch darkness and Gardaí Guthrie and O'Sullivan arrived at about 11pm.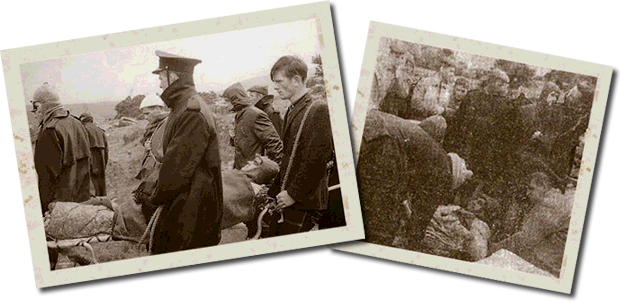 It was bitterly cold and there was a storm blowing with the mountain being lashed by rain. It became so cold that the rescuers were unable to keep warm and decided to start back down the mountain at 1am rather than stay and succumb to the cold on the mountain top. It took 8 hours of perilous rock climbing to lower the stretcher bearing Bill Collins to the foot of the mountain and a further 3 hours to get him out to where the ambulance had been waiting all through the night. He was removed to hospital at approximately 1pm. The rescuers had spent nearly 19 hours on the mountain without food or sleep at this time.
Paddy O'Callaghan, one of the leaders in the rescue, said one of their biggest difficulties was in trying to come down a gully which, though dry on the ascent, was a roaring river for the descent due to the heavy rains. "We had to leave three nylon ropes up there as it was too dangerous to try and retrieve them" he said. He said they would have to go back for them within the next week or so as equipment was too expensive to leave anything on the mountains. He said the stretcher on which Bill Collins was brought down the mountain cost £80, and a second one had been ordered by the team. He added that the lack of funds was a very big handicap to their efforts to have a really first class rescue service in operation.