Mystery of the Missing Climber
One of the most extensive and elaborate searches ever of Carrauntoohil was called off at 8pm on Tuesday, five days after the missing Englishman, John Harradence, 39, was last seen alive. The large scale search involved several mountaineering clubs, gardaí, civil defence, numerous volunteers, Air Corps helicopters and specially trained dogs used previously in the Lockerbie air disaster. But at the end of four days, the disappearance of the unmarried climber remained a mystery.
The tall brown-haired computer scientist left the Castlerosse Hotel in Killarney early on Friday morning and headed alone for Carrauntoohil. He had checked into room number 66 of the hotel the previous Wednesday and said he would be staying until Saturday, but might stay longer if he failed to climb the mountain. On his way to Ireland he met a former workmate on the boat – Harradence had lost his job two weeks previously after being let go from another job some months before that – and he told him he was going to go up and down Carrauntoohil in three hours.
At about 10am on Friday he parked his red Austin Maestro 1600 in Cronin's yard, the last stop before Carrauntoohil, and asked Mrs. Eileen Cronin to point out the "highest peak" on the Reeks. Dressed in a light blue T-shirt and carrying only a small backpack, he made his way towards the mountain. Visibility was clear and climbing conditions were good. He was not seen after this despite the fact that there were quite a few people on Carrauntoohil that Friday.
At around midnight Eileen Cronin noticed that Harradence's car was still there, she raised the alarm, and the longest ever search of the mountain got underway. The leader of Kerry Mountain Rescue Team, Con Moriarty, and three other members were attending the Irish Mountain Rescue Association's annual conference in Waterford. They drove through the night to make the dawn search for the missing climber. Another delegate at the conference, Neil Powell of the Search and Rescue Dogs Association, offered to help and he and his six and a half year-old dog, Pepper, were taken to Farranfore by the Air Corps. Both had been involved in the Lockerbie air disaster search.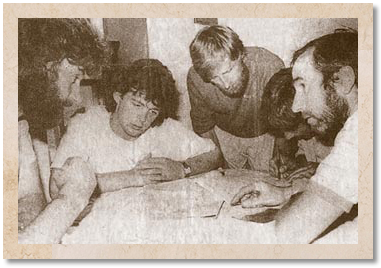 Throughout Saturday, Carrauntoohil was intensively searched, but this was made difficult by poor visibility over 2,000 feet. Twelve hours after the search began, there was still no trace of the missing climber and it was called off until first light. Five Kerry Mountain Rescue Team members were able to stay overnight in a recently erected rescue hut at Nead an Iolar, high up on the dangerous Northeast ridge, enabling a valuable early start on Sunday.
At 5.45am on Sunday, Eileen Cronin was up making sandwiches for the crowds of searchers that would descend on her home that day. These included mountaineering clubs from Kerry, Cork and Limerick, members of the gardaí under Sgt. Pat Lehane, Fossa boy scouts, the Air Corps, wardens from the National Park, local farmers and, of course, Kerry Mountain Rescue, assisted by Neil Powell and Pepper. But by seven o'clock that evening after another day's search, involving over 80 people, there was still no sign of Mr. Harradence, and hopes were quickly fading that he could have survived so long in exposed conditions. It was also felt that he was not an experienced climber, because of his clothing, his question about which was the highest peak and the fact that he did not appear to be carrying a map.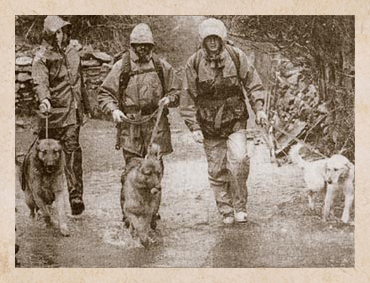 But the search would resume first thing on Monday, said Con Moriarty. And as he was saying so, five Welsh and English members of the Search and Rescue Dogs Association, in an unprecedented gesture, were on their way to Ireland with their dogs to join the search. While they were being given an 80mph police escort from Dublin, an early morning search planning session was taking place in the offices above Con Moriarty's shop in Killarney. Maps were pored oved and marked into different areas by Kerry Mountain Rescue Team members, who know Carrauntoohil better than anybody.
They, like all the other volunteer helpers, would be out of pocket because of the search, having to take time off work and provide transport. But that was the furthest thought from their minds.
The dogs – who are trained to scent the air rather than ground tracks, which can be washed away – their handlers and the Kerry Mountain Rescue guides were due to be air-lifted by Air Corps helicopter on to the mountain by 1am. But it did not arrive until 2am and after one lift was called away to deal with an ambulance emergency on the Aran Islands. As a result, Carrauntoohil had to be scaled on foot, several hours were lost and the highly trained dogs, being tired, were not able to cover nearly as much ground as they could have.
At that stage, most were convinced they were looking for a dead body, a belief which was held even stronger when the last group had arrived back at Cronin's at 8pm having found nothing except for two jumpers, binoculars and a cigarette butt on Carrauntoohil's precarious North Face, an unusual place to have a smoke.
Body of British Tourist Found
The Kerryman, 6/4/90
The remains of missing British tourist John Harradence were recovered from a gully on the east face of Carrauntoohil by Kerry Mountain Rescue Team this Sunday – over six months since the day he had set out to climb the mountain. An intensive search was carried out on the mountain range in the weeks following the disappearance of the 39-year-old computer programmer on September 22nd. A native of Romford in Essex, Mr. Harradence had been staying at the Castlerosse Hotel, Killarney.
Two of the search dogs used in the autumn search were being taken on a training session on the mountain this Sunday when a rucksack was found at the bottom of a gully not far from the Devil's Ladder in the Hag's Glen area. Rescue Team members Con Moriarty and Pat Falvey climbed up the gully and made the grim discovery 400 feet above the point the rucksack was discovered.
The body was found in a natural watercourse. It appeared to have been washed down from much further up in the gully, which contains a number of deep hollows.