Snap winter conditions provide backdrop for training with R117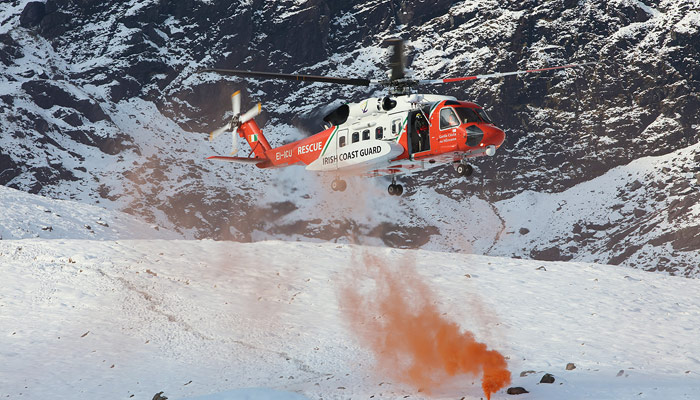 The non-stop rain, more than 100 days, has marked this winter out as unusual by Kerry mountain standards and until this weekend there was no real opportunity for winter skills training locally.
However, training is essential for the team. Rescue helicopter 117, based in Co Waterford was booked. And right on cue along came the snow.
"There was a lot of snow. Conditions were ideal," said spokesman Colm Burke. At 8.15am on Sunday, 30 members of the 35 strong group were in the Hag's Glen, in the eastern part of the McGillycuddy's Reeks. That's right alongside Carrauntoohil, Ireland's highest peak.
Winter is the group's busiest time with on average one call out a week — but some weeks there are two and even three calls.
The Kerry mountains, the Reeks and Mangerton and Torc have become enormously popular with thousands of people heading out from the offices and setting out for the fresh air and untouched mountain environment.
Weekends are the busiest times. "There is a lot of winter activity and weekends are the peak times," Mr Burke said. There had been 110 days of non-stop rain until the snow 'shone' for the team.
Founded after a number of fatalities on the Reeks 50 years ago, the team has grown and is highly regarded all over the south west. Most of its volunteers work; all are hill lovers, but readily give over their weekends to rescue fallen comrades, no questions asked.
Training is important, especially in ice and snow. In the New Year, for instance, the team had several callouts to poorly equipped walkers and with ice on higher ground there were a few nerve-wracking experiences.
In recent years, when the weather is icy particularly over the Christmas holiday and New Year period there have been several rescues of walkers attempting to descend the top of the Devil's Ladder on Carrauntoohil in icy conditions.
They have to be roped to safer ground. Rope exercises and co-ordinating with the helicopter were just some of the tasks practised.
The snow conditions offer not just temperature and tactile challenges — there is also the question of the intense light under clear blue skies and these are important factors too in carrying out rescues.
Normally a team would have to go to the Alps for training at this time of year.